CBE adds

value

to your company by
driving and mapping all

efficiency processes

on behalf of the client.
On and Offline Application.
Auto save and data integrity - data never lost.
Photo and signature field – authenticating information collected.
Task orientated with no user interface – easy navigation.
Ability to remote control.
Ability to send information in real time.
Data push – ability to push workflow down to device/user.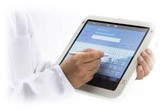 Scroll